The 6th 'A-Ha!' Summit has been unleashed upon the world! This tweet from Dyn's Tyler Gutierrez sums up NH's biggest social media, marketing, and success conference quite nicely for you:
Well, after that, what else is there to say?
Quite a lot, actually. If you missed it, what follows will let you experience it from a bunch of different angles. You can also order a "Video on Demand" Pass to get full access to the Summit Sessions and Online Domination Panel Discussion, too.
The Battle Cry of the #AhaSummit
"We ARE the Breakthrough" is the powerful video manifesto for Owners, Creators, and Leaders that kicked off the day. It could just as easily apply to YOU reading this, too.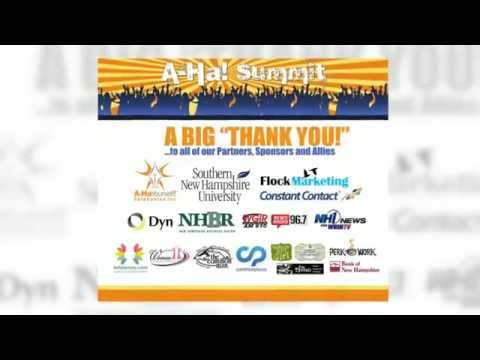 Itty Bitty Vibe Reel
If you want to get a sense of the scene at the event in under 90 seconds, the "Itty Bitty Vibe Reel of the 2014 #AhaSummit" should be right up your alley.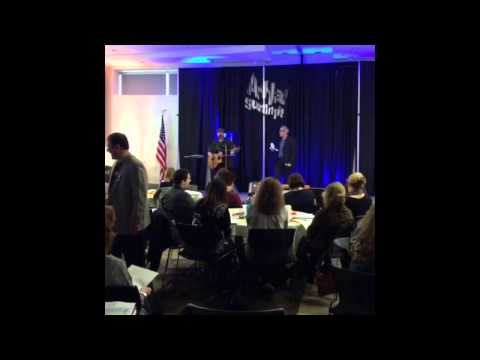 The #AhaSummit Twitter Impact
The social media impact of the #AhaSummit is nothing short of amazing! If you're looking to quantify your social media outreach efforts, TweetReach is a great tool to consider. We pulled the report for the #AhaSummit hashtag and were blown away. 323,000 Twitter accounts reached, and more than 3.7 million impressions. And that isn't even all of it! The report cut off at 1,500 tweets, and when we called TweetReach to dig deeper, we got a second report that STILL didn't capture all the tweets!
We recorded a video to geek out over the TweetReach reporting, which also happens to serve as a good example of what TweetReach can offer to event planners.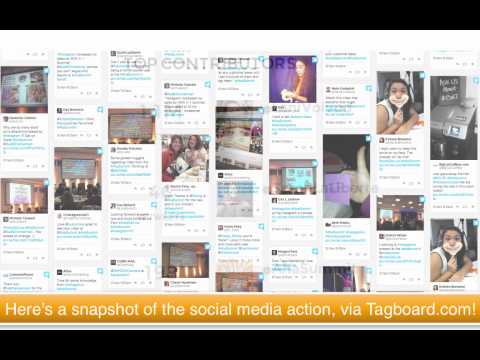 Tagboard Hashtag Tracking Across Multiple Platforms
This is especially for you if you if like to scan the surface of a large volume of social interactions, yet have the option for the deep dive right there in front of you. Have you ever heard of Tagboard? Fantastic resource that tracks hashtag usage across multiple platforms. We've got a tagboard reserved for #AhaSummit, and you can scan through photos, videos, and hundreds of tips, tricks, and insights shared by live and virtual attendees, as well as the speakers and panelists themselves.
Storify: Curated Social Media Stories
If you'd rather explore the #AhaSummit in a more structured and curated way, Lani has exhaustively reviewed both the Instagram and Twitter feeds from the event, and created stories of both via Storify (another fabulous tool). Remember what we said about 1,500+ tweets above? There were more than 300 Instagram photos posted, too, and every time Lani looked, new tweets and Instagram posts were popping up.
Boldwerks
Thanks very much to JL Stevens, who shared her take on the #AhaSummit in an awesome blog post for her company, Boldwerks, based out of Portsmouth, NH.
Big Thank Yous…
Thanks to the Summiteers for your overwhelming support and feedback on social media! We're especially psyched for the people who joined Twitter and Instagram before and during the event. You've taken your first steps into a larger, even more awesome world.
Thank you to our Partners, Sponsors, and Allies, without whom the conference simply wouldn't be possible.
And WELCOME, WELCOME, WELCOME to the newest Members of the 'A-Ha!' Tribe! Mike Gagnon of JG Realty, David Dougher of Pariah Games, Kendra Strickler of CommonPlaces, Marc McNamara of The Value Shift, Michelle Gaudet of Lamprey Health Care, Tim Taber of the Mount Washington Observatory, Elizabeth Duhamel and Penny Raby of Malone, Dirubbo & Company, P.C., and a stellar representative from the City of Keene have all become players in the creative and collaborative social media, marketing, and success mastermind community. We can't wait to introduce you to the rest of the #AhaTribe!
Speaking of that, we're thrilled to announce that we have an 'A-Ha!' Tribe Twitter account. You can connect with all our tweeting Tribe members in one convenient place.
And Finally…
Stay tuned.
Yes, stay tuned, because the 'A-Ha!' Summit expands into the realm of podcasting soon…