Omigosh…omigosh…OMIGOSH…
WE MADE IT! WE'RE HERE!
We have arrived at the 31st day of these 31 Days of Possibility!
Wow, what a trip, huh?
I don't know about you, but I sure wish there was a refresher of the territory we've covered, so we could kind of absorb the information in an easy flow. A convenient summary would be swell, don't you think?
By golly, YES! I think that's a terrific idea! Wait one minute…
[Running to grab Allen, the faithful hubby and editor...]
Okay, I'm back – and this is our lucky day, because Allen has agreed to help me go through the whole #31dop series, day by day, and help me pluck out a short idea and/or paragraph from each blog post that best captures the thrust and spirit of that day's theme.
You know what's especially cool about this? Our micro-process here, in doing this, is pretty much the same 3-step process that works in terms of FULFILLING OUR DESTINIES:
We take some time to look back at where we've been, grab the highlights, notice the stuff that jumps out at us, step back, and see it all as the radiant and awesome unfolding story it is…
Then, we arrive exactly where we're at (in the NOW, if you will), so we can breathe, feel, consider, and tap into our Intuition for some guidance and direction, and especially a hint at what our next micromovement or action step may be.
Finally, we Trust the Process yet again, and go toward the direction of our beautiful, wondrous, infinite Possibilities by taking that bold, joy-filled, INSPIRED ACTION!
All the thumbnail images are also links to the original blog posts, so if you feel like need or want to check out the whole post, or the video for that day, it's all right there for you. Easy and fun, that's my motto.
Okay, Piece of cake, right? Are you ready? Let's go!!
Focus on POSSIBILITY…
…and your chances of seeing new solutions, connecting with awesome like-minded collaborators, and exploring great new opportunities increases exponentially. Possibility: it's infinite, man!
More than anything…
…Trusting the Process is an exercise in SURRENDERING. So breathe, and Trust the Process. Manage expectations. Learn the Yogic art of "Observation without judgment." And adopt a new favorite phrase: "How fascinating!"

By taking bold, joy-filled action…
…based on your God-given flash of insight, you're granted a Portal of Possibility. Walk through this portal, and the course of your life shifts toward a different outcome, one that's more aligned with your purpose and destiny than ever before.
To choose POSSIBILITY means…
…to see things that may not yet exist, to know things in your heart that you can't explain with words, and to let go of ideas and beliefs that no longer serve you, even as many around you try to keep you in the safe, comfortable padded cell of "Reality."  ("Reality." Ha! What a joke!)
The thing is…
…you have to open up. You have to believe. You have to choose, time and time again, to play on the side of your infinite possibilities. You have to trust the brilliant minds, thinkers, dreamers, and thought leaders who have come before you and spent their lives seeking, studying and learning about this thing called "PURPOSE." And most of all, you have to learn to trust YOU.
If you want to open yourself up…
…to interesting, remarkable, unimaginable possibilities, you simply have to pay attention to what you're putting out into the world, tweak as necessary, and spread your vibe with singular confidence, commitment, and flair.
The Hero's Journey is…
…an archetype embedded in our human psyches, deep in the mysterious goop of our beings. This structure is popular not because of the stories that were built from it, but because it is IN US. We feel this, we know this, on some level or another.
As a seeker of Possibility, a dreamer, a trailblazer…
As someone who is ready to be the storyteller of his own life, the bold and bodacious hero of her own story, may I make this gentle suggestion: Do everything in your power to learn how to harness and channel and direct and celebrate that beautiful, mysterious, miraculous Energy of yours.
It's time to let all that go…
It's time to say thank you for everything that has come before us, for all the struggles, all the memories, all the unique incidents that have made us what we are today, and to let it go, like a kite in the wind, like a bubble from a wand.
Then, and only then, can we step through our Portals of Possibility, and step into the lives we wish to create today from the place of who we actually are, from the experiences we have carved, that have strengthened us, nurtured us, and trained us to fulfill our glorious destinies.
Visionaries will find a way…
…not to prove others wrong, but to fulfill the yearnings and stirrings of their own hearts and minds. Visionaries don't fret over the resources or lack thereof. They don't spend an ounce of their time citing limitations or crying over spilt milk. They're all business, even when (and often especially when) they look happy, engaged, and free. Visionaries may ask for permission, but only as a courtesy. They care little about it, because they know nothing – NO THING – will stand in the way of their version of what should be.
So following our BLISS…
…is recognized by the ancients as a true and specific way to dive into "the ocean of transcendence," and move into the space of infinite POSSIBILITIES. To follow our BLISS is to be driven by PASSION so lovely and fierce it happily and willingly ignores all obstacles, heightens our senses, and forges for us a space of creativity, delight, and flowwwwwwww.
If we play in our minds long enough…
…with enough passion, intention, joy, and playfulness, our neurotransmitters cannot differentiate between what actually happened in our lives vs. what we'd like to happen. Thus, they can can – and often will! – create opportunities and make connections where none existed before. IF we choose to play, and take advantage of this mind-blowing situation.
Creativity is in us…
…because we're human. We're ALIVE. The urge, ability, and impulse to create are part of our biological makeup. Our bodies themselves are in a constant state of creation – systems working together, cells multiplying, synapses triggering actions, absorbing information and input, then processing it all so it can interact with and/or reenter the world in new ways and forms.
Our dreams are like…
…our soul's Switzerland. They serve as the safe, neutral in-between land where we can work out our fears, explore our fascinations, and dive into ideas that may or may not be acceptable for public expression or consumption. They're essential to our own growth and evolution as human beings, and they're goldmines of inner wisdom, guidance, creativity, and POSSIBILITY for our waking selves.
We are entering the domain…
…of The Social Realm. Ten years ago, five years ago, even two years ago – different worlds, different rules. Now change, adaptation, and adoption – of communication stylings, technology, human interaction, societal expectations – have all been turned on their heads many hundreds of times, and all we can do is hang on with white knuckles and a smile, and hope for a clean change of panties, if and when necessary.
The proliferation of ideas…
…and information via the Internet has empowered the curious and talented to branch out further and faster than ever before. Discovery is about being reached by the people destined to reach you, and then giving back by choosing to be a co-creator of advancing ideas, stimulating minds, and turning your passions into consumable data in some form or another.
To tap into the might and magic…
 …of making Conscious Connections, we must have a deep trust and faith in the idea that more is going on than meets the eye right now. Yes, NOW. Literally.
We must also know that small acts of kindness and consciousness, especially when done with Intention, DO MATTER. We are ENERGY. We are vibrational beings existing together in this world, and even something as simple as clicking "LIKE' or sharing positive and powerful art and ideas across our social channels builds over time. It nudges the overall trajectory of human evolution and potential.
Have you ever been positively STUNNED…
…by the information or resources that find you, or the people or communities you happen to come across at exactly the right moment in time? Allen and I call it QUANTUM SERENDIPITY. Led by our instincts, fueled by our energy, nudged by our emotions, and catapulted by the ever-optimized algorithms, we meet the right people, find the best resources, attract the perfect opportunities. Part math, part mindset, and part magic, QUANTUM SERENDIPITY is what brought this blog post to you today.

There's the world as we think it is…
…as it appears in front of us, in its natural form. And there's the world through the lens of Mobile Magic. This is where moments and places and people are captured, colored, played with, altered, and manipulated based on the viewers' point of view – psychologically, spiritually, literally, and emotionally.
Allies see you…
…they get you, on a cosmic level. They recognize when you're doing something more than just your job, and they let you know it matters, even when (and especially when) you may not be able to see the forest through the trees. Allies create opportunities for you, send clients your way, invent scenarios where you can shine, and use their own talents, position, and circumstances to expand and amplify your POSSIBILITIES here on planet Earth.
Vigilant Positivity is…
…an iron-fisted decision to do everything you can to spend the rest of your living moments choosing light instead of darkness, levity instead of melodrama, and love instead of fear.
When we shift…
…into a spirit of Gratitude, we become a self-feeding machine of perpetual love, grace, awareness, humility, humanity, and yes, POSSIBILITY.
Our Beliefs are the gatekeepers…
…of our Possibility. They are the bouncers of our Ultimate Possibility Party. They are the things that either allow us to pass through to the life of our dreams, or they keep us playing small, spiritually bankrupt, in pain, unfulfilled, and all the while thinking we don't have a choice.
Our Possibilities exist…
…outside of our comfort zones. Anything could happen out there! The ego's whole identity is wrapped up in staying the same, what is a known quantity, and how things are, in the most unthreatening one-dimensional box available. Fear keeps us semiconscious, even sound asleep, cowering from scenes and situations that will probably never, ever happen.
NOW is where all the groovy stuff is. Seriously…
…worrying about the future is pointless, because the future doesn't exist – you can only think about the future NOW. Obsessing over the past is useless, because it is nothing more than a memory – a memory you're thinking about NOW. The ONLY thing that exists is this very moment, the one that's happening to you RIGHT NOW. This is the way it always has been, and this is the way it always will be.
Tapping into our Intuition…
…is about seeing, feeling, sensing, and processing patterns, both in the vast world around us and in the cosmic soup of our rich inner universes. Our linear minds tell us a fraction of our "realities." Intuition is an enlightened intelligence that flows far beyond and through our allegedly rational minds. Ideas collide. Experiences mesh. Patterns emerge. We see them, feel them, and KNOW THEM. We've pressed the override button long enough. We must re-learn how to honor our intuitive gifts – our intuitive ways of being – and let them guide us to and through the lives we were born to live.
Meditation is…
…melting into your body and ALLOWING sensations to happen as they will. It's understanding your BREATH is an ever-present tool and resource for you that you can return to any time, no matter the situation, no matter what else is going on…AND your breath is filling you up with the same air that's been exhaled by trees, caressed by mountain tops, lavished by moonlight, and given to you by some unseen force that wanted you to experience these lush and precious moments in the land of the living.
Chances are…
…you have the vision, courage, passion, stubbornness, stamina, creativity, curiosity, flexibility, originality, and heretical insanity to step up and take your place as a bona fide Leader in this hyper-evolving world. The time is NOW. Not five years from now or even five minutes from now, but N-O-W. You can't wait for permission, though. You have to step up to the plate. Seriously, if you feel a tug to lead, don't ignore it. Make a decision, say "Yes," and commit to taking action.
When we're PLAYING our own GAME…
…we're entering all moments, scenes, and situations like an improv ninja. We're on high alert for opportunities that inspire us, engage us, and attract our attentions on a visceral level. We use our Spidey senses to feel out where our skills and talents may best be used, and how we could enhance moments and outcomes for others.
If you're serious…
…about finding your Portals of Possibility and walking through them to create and discover the beautiful, joy-filled, adventure-ridden life you want and deserve, YOU MUST TAKE ACTION. It's always, ALWAYS best if it's Inspired Action. Joy-filled action. Action with a purpose. Action driven by an impulse within you to play, create, grow, love, live, share, reach, connect, expand, ignite, or cause a ruckus.
And now the time has come…
…to FULFILL YOUR DESTINY! You know what it is. Don't be afraid! Check in with that crazy-powerful heart of yours. Listen to the whispers. Feel the tugs. Believe in the best, most happy and inspired version of yourself and your life. What are you doing? What action could you take today to get you one step closer to where you know you're meant to be? Do it! Own your future! Walk through the Portal! Feel the trajectory of your life shift toward the direction of your Infinite Possibilities!
Feel it and know it and believe it, everyday. See the scenes in your head, feel the gratitude in your heart. Honor the guidance of your Bliss.
You've got this thing.
Wahhooooo!!!!
Please, don't be shy, let me know what kinds of action you took, big or small. Keep me informed of your journey. Share your victories with me! I would LOVE to hear from you. I said it before and I'll say it again - it's been all about you from the beginning.
I'm inspired to sign off with a couple of clips from one of my all-time favorite books: Oh, the Places You'll Go!, by Dr. Seuss:
You have brains in your head.
You have feet in your shoes.
You can steer yourself
any direction you choose.
You're on your own. And you know what you know.
And YOU are the guy who'll decide where to go.
…
And  will you succeed?
Yes! You will, indeed!
(98 and 3/4 percent guaranteed.)
KID, YOU'LL MOVE MOUNTAINS!
Hey. THANK YOU. I've truly enjoyed our journey together. You've been a wonderful companion.
So here's the video for Fulfilling Your Destiny. Peace out, don't be a stranger, and I'll see you in the Vortex of Being, Knowing, and Doing!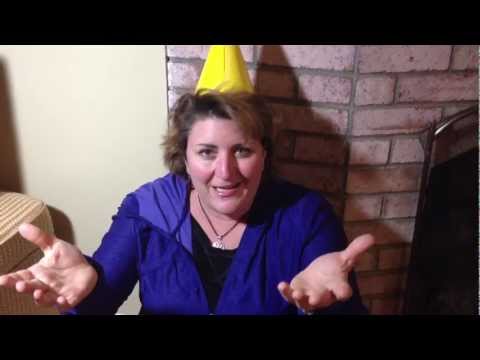 Have you enjoyed this 31 Days of Possibility series? Why not share it with your friends and favorite connections so they can go on this adventure and expand their own possibilities! Share on Facebook, Twitter, LinkedIn, Google+, Pinterest, Instagram – wherever you like to connect and play the most. 
And if you'd like to connect with us on any of these channels, please make it happen! 
You can find us on Twitter at @LaniVoivod, @AllenVoivod, @EpiphaniesInc, @AhaSummit, and @AhaYourself. Plus, you're always welcome to ask questions, give feedback, and share some of your own experiences (and hopefully your big "A-Ha!" victories along the way), here in the comments, and on the Epiphanies, Inc. Facebook Page. Allen and I love to hear from you. Here's to you and your vast and wondrous possibilities!