"If your actions inspire others to dream more, learn more, do more and become more, you are a leader." – John Quincy Adams
"Enlightened leadership is spiritual if we understand spirituality not as some kind of religious dogma or ideology but as the domain of awareness where we experience values like truth, goodness, beauty, love and compassion, and also intuition, creativity, insight and focused attention." – Deepak Chopra
"The first responsibility of a leader is to define reality. The last is to say thank you. In between, the leader is a servant." – Max DePree
I suppose there are a lot of books on Leadership. As far as these 31 Days of Possibility goes, though, there's only one:
Tribes, by Seth Godin.
Have you read it?
It's a tiny little book, just 151 pages. Practically fits in the palm of your hands. But it seems to be the only book that really gets it, in terms of what's truly possible in our world, like, RIGHT NOW, for you, for me, for us.
Godin speaks of heretics and leverage, movements and the importance of BELIEF. He talks about the rejiggering of power, production, and progress, and how tools and resources used to facilitate conversations, attract like minds, and ignite revolutions are no longer perks of the elite, but completely accessible by whomever cares enough to use them.
At the heart of it, though, he's talking directly to anyone who knows there's a better way to live, work, dream, create, innovate, captivate, connect, and communicate, and is willing to do something about it.
Is that you?
Since you're here, whether you've gone day by day though these 31 Days of Possibility, or you've followed a few rabbit holes to be here now for the first time, then it most likely IS you.
Congrats! You've arrived at your station. Destination? Anywhere you dang well want to go.
I plucked a few of my favorite messages and sentences from my copy of Tribes and plopped them into my DipTic app on my iPhone, so you could see what I think represents the thrust of this spunky little manifesto.
So tell me, did this little Leadership collage speak to you?
Did those tiny collections of words reach out and grab hold of your throbbing heart, or zip into your eyeballs for instant access to your buzzing and swirling neural pathways?
Do you get it? Does it feel good? Are you curious? Intrigued? Compelled?
If not, don't sweat it. Not everyone is born to be a Leader, and that's okay. Sometimes a passionate follower is the best person to be to secure the success of any cause or mission, as demonstrated by this FANTASTIC video narrated by Derek Sivers: How to Start a Movement.
But if you felt the tug, listen to your gut. It knows you best.
Chances are, you have the vision, courage, passion, stubbornness, stamina, creativity, curiosity, flexibility, originality, and heretical insanity to step up and take your place as a bona fide Leader in this hyper-evolving world.
The time is NOW.
Not five years from now or even five minutes from now, but N-O-W.
You can't wait for permission, though. You have to step up to the plate. Seriously, if you felt the tug, don't ignore it. Make a decision, say "Yes," and commit to taking action.
The rules simply don't exist anymore. Technology has leveled the playing field. The greatest assets you can bring to any idea bash are Energy, Passion, and Creativity.
Turn your Mindset on "Vigilant Positivity" mode, and step through your Portal of Possibility.
It's so cliché to say this, I know, but seriously: There has never, ever, EVER been a better time to play to your strengths, amplify your Imagination, stir up the status quo, DREAM BIG, cause a ruckus, and shake what your mama gave you.
Everything you need to succeed is at your disposal, and will make itself available when the time arrives.
Trust it. Believe it. Go for it!
As Seth Godin says and I totally agree:
"We need you to lead us!"
Check out the video for Day 28: Leadership!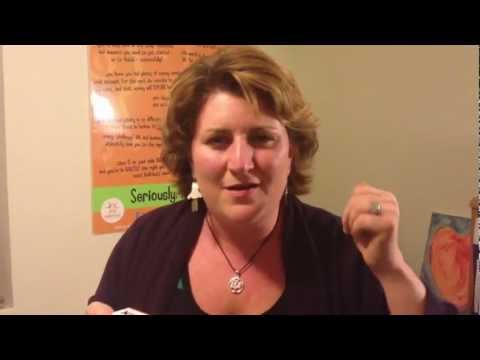 P.S. Just in case you need a bit more of a nudge to heed your life's call, these leaders have a few choice words for you:
"A leader is one who knows the way, goes the way, and shows the way." – John Maxwell
"A leader is a dealer in hope." – Napoleon Bonaparte
"Before you are a leader, success is all about growing yourself. When you become a leader, success is all about growing others." – Jack Welch
"Leadership is lifting a person's vision to high sights, the raising of a person's performance to a higher standard, the building of a personality beyond its normal limitations." – Peter Drucker
"A great leader's courage to fulfill his vision comes from passion, not position." – John Maxwell
"The leadership instinct you were born with is the backbone. You develop the funny bone and the wishbone that go with it." – Elaine Agather
"We know that leadership is very much related to change. As the pace of change accelerates, there is naturally a greater need for effective leadership." – John Kotter
"Don't be afraid to give up the good to go for the great." – John D. Rockefeller
Enjoying this 31 Days of Possibility series? Why not share it with your friends and favorite connections so they can go on this adventure with you and expand their own possibilities! Share on Facebook, Twitter, LinkedIn, Google+, Pinterest, Instagram – wherever you like to connect and play the most. 
And if you'd like to connect with us on any of these channels, please make it happen! 
You can find us on Twitter at @LaniVoivod, @AllenVoivod, @EpiphaniesInc, @AhaSummit, and @AhaYourself. Plus, you're always welcome to ask questions, give feedback, and share some of your own experiences (and hopefully your big "A-Ha!" victories along the way), here in the comments, and on the Epiphanies, Inc. Facebook Page. Allen and I love to hear from you. Here's to you and your vast and wondrous possibilities!