Have you ever been positively STUNNED by the information or resources that find you, or the people or communities you happen to come across at exactly the right moment in time? 
This phenomenon is so compelling and awesome to me that it served as the singular theme and muse for a presentation I did one year ago for members of the Greater Manchester Chamber of Commerce, the largest Chamber in the state of New Hampshire, called "Social Media in 400 Seconds." (The story of how I came to present on the topic was, ironically, a very real and mighty example of the phenomenon itself, all revealed in that blog post!)
Behold, the phenomenon:
QUANTUM SERENDIPITY

Allen and I call it QUANTUM SERENDIPITY. Led by our instincts, fueled by our energy, nudged by our emotions, and catapulted by the ever-optimized algorithms, we meet the right people, find the best resources, attract the perfect opportunities. Part math, part mindset, and part magic, QUANTUM SERENDIPITY is what brought me here today to share this 400-second presentation with YOU.
And now, it's come full circle, and found its way into the 31 Days of Possibility, one year later.
As luck or Quantum Serendipity would have it, Allen recorded my PechaKucha presentation, which also serves as the official Day 18 video! (You'll find the complete essay fueling this video at the "Social Media in 400 Seconds" link above.)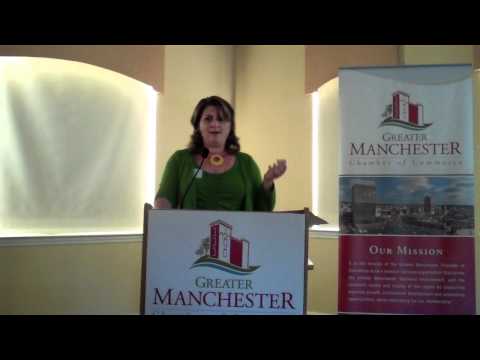 Enjoying this 31 Days of Possibility series? Why not share it with your friends and favorite connections so they can go on this adventure with you and expand their own possibilities! Share on Facebook, Twitter, LinkedIn, Google+, Pinterest, Instagram – wherever you like to connect and play the most. 
And if you'd like to connect with us on any of these channels, please make it happen! 
You can find us on Twitter at @LaniVoivod, @AllenVoivod, @EpiphaniesInc, @AhaSummit, and @AhaYourself. Plus, you're always welcome to ask questions, give feedback, and share some of your own experiences (and hopefully your big "A-Ha!" victories along the way), here in the comments, and on the Epiphanies, Inc. Facebook Page. Allen and I love to hear from you. Here's to you and your vast and wondrous possibilities!