When I was a young girl, I had this poster on my wall.
It was of a beautiful ballerina, one strong, tight-wearing leg en pointe, the other extended behind her, straight and heroic. Her elegant arms reached forward, spine curved, chest out, head thrown back in what looked like exaltation. She was passion and beauty, displayed next to me every day.
The thing is, the image of this beautiful ballerina was secondary to the words that were tucked at the bottom of the poster:
If you can imagine it
You can achieve it
If you can dream it
You can become it
These words…these words…
These simple, luscious, extraordinary words…
I had no idea the impact they'd have on me during the course of my life. I just knew I felt them, and they felt true.
"Your vision will become clear only when you can look into your own heart. Who looks outside, dreams; who looks inside, awakes." - Carl Jung
Yes, yes, it all starts inside. Sometimes it bubbles. Other times, it explodes.
But it starts as an inside job, this Vision thing. It's clarity and stubbornness and determination and exhilaration, often all at once.
Vision is the ability to see what doesn't exist yet, to know for a fact something is possible, and to understand the "how" is nothing but a bundle of details that have yet to be handled. Small matters, all of them.
"Life is one big road with lots of signs. So when you ridin' through the ruts, don't complicate your mind. Flee from hate, mischief and jealousy. Don't bury your thoughts, put your vision to reality. Wake Up and Live!" - Bob Marley
We are all born with the capacity to have Vision. Our young minds and virgin hearts usually see things with such clarity and honesty it makes a lot of adults uncomfortable.
Whether it's seeing our first homeless person, or hearing our parents fight over something ridiculous, we know there's a different choice, a better way. But c'mon, we're kids! Sadly, it doesn't take long for the things we see that aren't quite right to be adopted as "just the way things are."
Luckily for humankind, some have the ability to hold on to their gifts for idealism, imagination, creativity, ingenuity, and a fierce knowing that "Reality" is a subjective realm, easily manipulated by the ones who dare to play the game.
"Be daring, be different, be impractical, be anything that will assert integrity of purpose and imaginative vision against the play-it-safers, the creatures of the commonplace, the slaves of the ordinary." - Cecil Beaton
Vision takes guts.
It can look downright nuts to those who lack it, and will often be treated as such. In our society, Vision is rarely acknowledged or respected unless our efforts and circumstances have found a way to generate vast amounts of money from it.
Elon Musk, Barbara Marx Hubbard, and Richard Branson certainly have vision. But so do so many teachers, artists, entrepreneurs, community leaders, small business owners, designers, filmmakers, parents, healthcare professionals, coaches, musicians, writers, volunteers, caregivers, students, and so many other bold, passionate dreamers and doers.
Thus, those who have and treasure Vision learn how to be egoless about it. Resilience, perseverance, focus, stubbornness, humility, faith, and a BELIEF in POSSIBILITY that goes deeper than marrow, deeper than life itself – these are the skills that must be learned. These are the traits that must be honed over the course of a Visionary's lifetime.
"If we had a keen vision of all that is ordinary in human life, it would be like hearing the grass grow or the squirrel's heart beat, and we should die of that roar which is the other side of silence." - George Eliot
People with Vision know something the rest do not.
They know, at the core of their souls, that if they are able to imagine something, it IS in fact possible. They make it a point to dwell in this space at all costs. They learn to keep their "silly ideas" to themselves when necessary, and to run with them with everything they've got when the opportunity presents itself.
Or rather, when they create the opportunity.
"It is very dangerous to go into eternity with possibilities which one has oneself prevented from becoming realities. A possibility is a hint from God. One must follow it." - Sören Kierkegaard
Visionaries will find a way.
Not to prove others wrong, but to fulfill the yearnings and stirrings of their own hearts and minds. Visionaries don't fret over the resources or lack thereof. They don't spend an ounce of their time citing limitations or crying over spilt milk. They're all business, even when (and often especially when) they look happy, engaged, and free.
Visionaries may ask for permission, but only as a courtesy. They care little about it, because they know nothing – NO THING – will stand in the way of their version of what should be.
"The empires of the future are empires of the mind." - Winston Churchill
Our minds are more powerful than most people think.
Visionaries know this.
That's why they're smiling.
Check out the video for Day 10: Vision from our YouTube channel!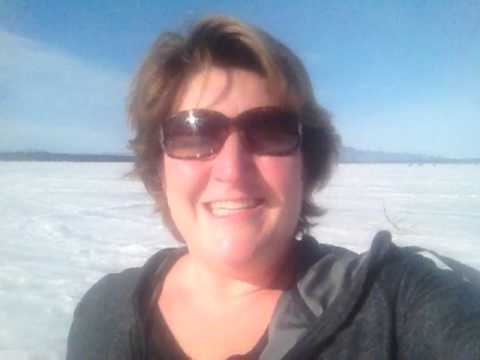 Enjoying this 31 Days of Possibility series? Why not share it with your friends and favorite connections so they can go on this adventure with you and expand their own possibilities! Share on Facebook, Twitter, LinkedIn, Google+, Pinterest, Instagram – wherever you like to connect and play the most. 
And if you'd like to connect with us on any of these channels, please make it happen! 
You can find us on Twitter at @LaniVoivod, @AllenVoivod, @EpiphaniesInc, @AhaSummit, and @AhaYourself. Plus, you're always welcome to ask questions, give feedback, and share some of your own experiences (and hopefully your big "A-Ha!" victories along the way), here in the comments, and on the Epiphanies, Inc. Facebook Page. Allen and I love to hear from you. Here's to you and your vast and wondrous possibilities!